Asos Issues Perfect Response After Customer Complains Using Eminem Lyrics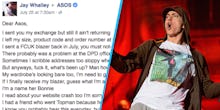 Online retailer Asos is known for a number of things: cute, size-inclusive clothes; free shipping; exceedingly attractive models; and a seemingly endless supply of wrap dresses and platform shoes. What it is not particularly known for is its knowledge of rap. That is, until now. 
In an exchange that's currently charming the internet, Asos got to spit some bars.
It all started when a customer named Jay Whalley posted on the retailer's Facebook page with a complaint. But rather than being like, "Hello, you still haven't shipped me my blazer yet," he decided to send them a rap about this particular blazer. And it wasn't just any ol' rap, but a rap about Asos' customer service, inspired by lyrics from Eminem's song "Stan." (You know the one — it features Dido.)
"I sent you my exchange but still it ain't returning/ I left my size, product code and order at the bottom/ I sent a FCUK blazer back in July, you must not-a got 'em/ There probably was a problem at the DPD office or somethin'" Whalley wrote. 
As a sidenote, we're imagining Whalley looked something like this while writing it:
After explaining — or, erm, rapping — about this particular blazer and his general affinity for Asos, he ended with: "Anyways, I hope you get this man, hit me back/ Just to chat, truly yours, your biggest fan/ This is Jay." 
Then, in a very lovely turn of events, an Asos customer service member named Rianna (of course) effectively started (and ended) a rap battle in order to ensure Jay that Asos is also concerned about getting him this blazer, and that they'd be happy to assist. Of course, though, they did it in rap form. 
"Yo Jay, what's happenin?/ Soz to hear you haven't received your return/ Hope it's not giving you heartburn," Rianna's tremendous rap began. 
"If you pop us a PM/ we'll get to the bottom of this mayhem," Rianna went on before ending the song with, "Look forward to hearing from you soon Jay/ You'll always be our number one bae." 
We believe this is considered a mic drop, no? 
After facing controversies like selling bindis on its site and a T-shirt that read "Slave," the rap battle stands as one of the retailer's high moments so far this year, with one Facebook user commenting that it was "simply the greatest thing I've possibly ever read." 
However, Rianna is already facing her fair share of critics, who found issue with her not responding in an Eminem-like fashion. "9/10 for effort. 2/10 for execution," one snide commenter wrote. "Must try harder Rianna." 
We'd just like to applaud her for trying. 
Read more: