Should You Vote for Jill Stein? Bernie Sanders Has a Warning for Third-Party Voters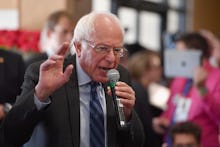 Vermont Sen. Bernie Sanders didn't just want to launch a presidential campaign — he wanted to start a political revolution. But as Sanders loyalists continue to cry "Bernie or bust" — and even "Never Hillary" — on the days leading up to Hillary Clinton's formal acceptance of the Democratic Party's nomination, the senator is realizing he has a problem on his hands.
A Pew Research poll from Monday reported 90% of Sanders supporters said they would vote for Clinton in November. But the same day, a CNN/ORC survey showed 19% of would-be Sanders voters would cast their ballots for either Green Party nominee Jill Stein or Libertarian candidate Gary Johnson. 
While Sanders supporters are eager to find an alternative who shares their beloved Vermont senator's views, Sanders had strong words of caution for third-party voters.
"Right now — what is it, three, four months before an election — you're going to end up having a choice," said Sanders at a breakfast sponsored by Bloomberg politics, according to the Washington Post. "Either Hillary Clinton is going to become president, or Donald Trump."
While "party unity" may have once seemed like a problem reserved for the GOP in this year's election, Democrats are now faced with the task of rallying voters behind Clinton, before third-party voters inadvertently usher in a Trump victory. 
While he admires the Green Party's platforms, Sanders urged voters to consider the realities of the current political landscape in the United States. 
"If we were in Europe right now, in Germany or elsewhere, the idea of coalition politics of different parties coming together — you've got a left party, you've got a center-left party, coming together against the center-right party," he said, before speaking more bluntly. 
"We don't have that," he said. "We have and have had [two parties] for a very long period of time — and I know a little bit about this, as the longest serving independent member of Congress."
Read more: