M.I.A. Slams MTV's VMA Nominations: "Racism Sexism Classism Elitism"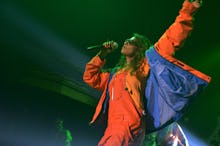 M.I.A. has positioned her career as one combatting all the -isms that seek to divide our world — racism, sexism, classism, elitism — and she sees them all in MTV's 2016 Video Music Awards nominations.
In a Twitter rant posted Thursday morning, the singer went in on the nominee list, released Tuesday, calling them out for not including her "Borders" video, which seeks to capture the urgency of the refugee crisis, in any of its categories.
"This is a perfect example of 'allowed' voice vs. excluded voices," M.I.A. wrote in her rant. "Not here for ego or accolades but know before you tell other artists they have the same platform as major U.S. artists 'cause they don't."
M.I.A.'s "Borders" video turned its lens on Europe's refugees, translating their struggles to cross country lines in search of safety socioeconomic freedom into striking images — boats made out of bodies, choreographed dance sequences on barbed wire fences, bodies wrapped in gold strewn across rocky shoes. 
Instead of honoring this, MTV's VMA nomination academy lauded more marquee names, like Drake for "Hotline Bling," Justin Bieber for "Sorry" and Beyoncé for her magnum opus "Lemonade."
M.I.A.'s comments mirror some of those she recently offered about the United States' Black Lives Matter movement, arguing that company's condone certain forms of domestic protest but largely ignore global abuses and the artists that speak to them.
"It's interesting that in America the problem you're allowed to talk about is Black Lives Matter," she told the Evening Standard. "It's not a new thing to me — it's what Lauryn Hill was saying in the 1990s, or Public Enemy in the 1980s. Is Beyoncé or Kendrick Lamar going to say Muslim Lives Matter? Or Syrian Lives Matter? Or this kid in Pakistan matters? That's a more interesting question. And you cannot ask it on a song that's on Apple, you cannot ask it on an American TV program, you cannot create that tag on Twitter, Michelle Obama is not going to hump you back."
The comment eventually led to her getting kicked from her headlining slot at the Afro Punk festival in London.
Read more: