Feminist Jessica Valenti Quits Social Media After Rape Threat Against 5-Year-Old Daughter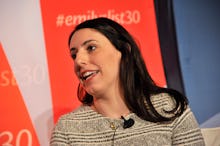 Women are constantly being harassed and threatened online. Outspoken feminists in particular often bear the brunt of misogynistic strangers' aggression on social media, yet one prominent feminist writer just couldn't take it anymore. 
Yesterday, author Jessica Valenti finally decided she had enough when an Instagram user sent a rape threat directed at her five-year-old daughter. 
The outraged writer tweeted that law enforcement and social media companies need to do more to "punish and prevent online harassment," before announcing that she's taking a break from public social media altogether. 
Mic has reached out to Instagram for comment and will update when we hear back.
Valenti received the threat on Instagram, according to a post on her (now-private) account. The author declined to comment to Mic on the record.
Unfortunately, Valenti isn't the only woman to face such harassment. According to the Pew Research Center, around 25% of 18 to 24-year-old women have been physically threatened online and 26% have reported being stalked. 
Sites like Twitter and Instagram aren't the only digital spaces where women have come under fire, but overall, 66% of online harassment victims said their latest incident happened on a social network or app, prompting questions of what, exactly, social media networks like Twitter and Instagram plan to do about it. 
Last week, it seemed that Twitter in particular was taking a step in the right direction when it decided to issue a permanent ban on Milo Yiannopolous, a far-right pundit and editor of Breitbart News who led a harassment campaign against Ghostbusters star Leslie Jones. Yet the ban also prompted questions among concerned feminists as to whether Twitter would take such drastic steps if less prominent women than Jones were targeted. 
Many Twitter users reacted to Valenti's announcement by trolling her, with some even suggesting that she had made up the offending threat. However, others flooded her social media accounts with supportive messages, as well as tales of their own struggles with cyber-abuse.
Danielle Citron, a law professor at the University of Maryland and author of Hate Crimes in Cyberspace who has spent several years interviewing Valenti about online harassment, told Mic that Valenti has been getting routine threats sent to her inbox, cell phone and email for years. 
Citron defined a criminal threat as a "credible threat that you'd be criminally responsible for," such a post or message that targets someone with clear intent to do physical harm. "It's not hypothetical or joking...[it's something like] a picture of a gun with a message saying 'bitch you're next,'" Citron said in a phone interview, citing an example she received the other day.
Citron is currently on Twitter's Safety Council and has also been working with the California Attorney General to beef up law enforcement's ability to combat online harassment. Yet despite official efforts by media companies and law enforcement, she fears targeted harassment is now more socially acceptable than ever — thanks, in part, to presidential candidate Donald Trump, who is notorious for his Twitter rants against public figures. 
"What we're seeing is an unleashing, a mainstreaming of hate," she said.  
Although Citron believes Twitter in particular is "committed" to preventing threats and other cybercrimes, the lack of recent data about the prevalence of online threats means it's impossible to know whether that commitment is having any nationwide impact. 
"There are no statistics collected about [cyberstalking] on the federal level at all," Citron said. "There are about 30 to 50 [cyber stalking] threat prosecutions a year at the federal level, and that's just not a lot." 
Meanwhile, Citron said local law enforcement agencies are overwhelmed and under-equipped to deal with the magnitude of online threats leveled against women every day. "There's still a ways to go," she said. "It's life-endangering and terrorizing [women]." 
Correction: July 29, 2016
Read more: