Drake Savagely Offered Joe Budden $10,000 to Release 25 Dis Tracks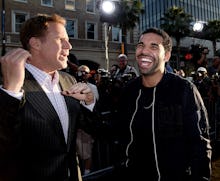 Drake's pettiness knows no bounds. 
After firing off on rapper Joe Budden for repeated dis tracks and shady tweets at a Summer 16 tour stop, we thought perhaps we'd seen the last of this "rap beef." But as Budden recently revealed on ESPN Radio's Be Honest With Cari Champion, it's still alive and well behind the scenes. Apparently Drake has been sending the Slaughterhouse member some savage DMs in the wake of their public feud. 
"He started off with, 'I would like to formally invite you to one of my four Madison Square Garden shows, August 4, you and however many people you'd like to bring.' And after that it said, 'Oh, and I bet you can't release 25 dis records between now and then,'" Budden said on the radio show. 
"So then it was the laughing emoji — so I use that emoji with my friends, so I don't know if he's laughing or joking at this point," Budden continued. "And then he followed that with, 'If you can, I will give you $10,000, LOL,' and then 'JOEY' and a bunch of exclamation points. I didn't know how to take that."
Some backstory for those just joining this beef: It all started when Budden offered a scathing review of Drake's latest album, Views, back in May, saying the project seemed "real fucking uninspired." Cue Drake's "4pm in Calabasas" later in June, which Budden felt hid some deeply coded disses — and voila: Here we are with yet another rapper cutting a series of dis tracks against pop hip-hop's heavyweight champion. 
Budden now seems to be flip-flopping on whether Drake deserved such disses, telling ESPN's radio show he prays for the Canadian hitmaker and wants "him to be well." But when it came to describing Drake's shady messages, he said: "[Drake] sounds like a man who was very hurt and just didn't want to talk to Joe or hear from Joe or just that relationship was over," Budden said.
As for his reply to Drake's DMs, Budden revealed he accepted the challenge: "LOL, maybe not 25 [dis tracks], but I bet you I could get close to 20." Looks like we're just getting started.
Read more: