'Jessica Jones' and 'Daredevil' Won't Have New Seasons for Years — Here's Why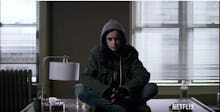 Marvel impressed at San Diego Comic-Con with teasers for its upcoming slate of Netflix original series: Luke Cage, Iron Fist and eventual crossover series The Defenders. But Marvel didn't really expound on the future of its already released titles, Jessica Jones and Daredevil, with the latter simply getting a cursory announcement that there will be a third season. 
However, we now know that both shows are coming back to Netflix for new seasons. The problem? Don't expect it anytime soon. 
During the Television Critics Association press tour, per Screencrush, Netflix's chief content officer Ted Sarandos noted that the current schedule for Marvel-Netflix shows will be two a year — so we'll fill that quota for this year with the Sept. 30 release of Luke Cage. (Daredevil's second season already came out this year.) Therefore, assuming that model continues next year, 2017's lineup is set; it'll be Iron Fist and The Defenders. 
In other words, the earliest we'd likely get Jessica Jones and Daredevil is 2018. 
This doesn't even factor in Netflix's insistence on a Punisher series, created after the character's standout performance in Daredevil, so that one would also be in the mix beginning in 2018. As a result, Netflix's Marvel television timeline has become so convoluted that it could feasibly compete with the organized chaos of the Marvel Cinematic Universe, which features multiple movies per year all feeding into Avengers installments every few years. 
The good news, however, is that Marvel has yet to fail with their Netflix superhero shows — both Jessica Jones and Daredevil have been highly praised by critics. Moreover, The Defenders will bring together all the aforementioned heroes into one Avengers-esque team. So while you'll be missing their shows, you won't be missing them entirely. 
As long as the end result is as impressive as the earlier outings, patience will eventually pay off for Netflix users. 
Read more: