When Will the L Train Shut Down? If You Live in Williamsburg or Bushwick, Read This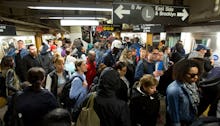 If you use the L train to commute between Brooklyn and Manhattan in New York City, there's some bad news: Starting possibly as soon as January 2019, the Metropolitan Transportation Authority plans on shuttering the Canarsie Tunnel — the tunnel under the East River that connects the two boroughs — for 18 months so necessary repairs can be done. Yes, that's 1 1/2 years.
According to AM New York, both tubes of the Canarsie Tunnel suffered damage due to Superstorm Sandy in 2012. The entire L line has a daily ridership of 400,000 people, AM New York reported, citing the MTA.
The MTA originally floated several options for getting the work done, but finally decided on the total shutdown to complete the repairs as quickly as possible, according to the New York Times. 
"While the MTA always looks to avoid service disruptions, there is no question that repairs to the Canarsie Tunnel are critical and cannot be avoided or delayed," MTA chairman and CEO Thomas F. Prendergast said in a press release. "We are committed to working with the community just as closely as we develop ways to add service to help minimize the impacts of the closure."
While you won't be able to take the L between Brooklyn and Manhattan, it'll still be running between Williamsburg and Canarsie, according to the Times. The L won't be running in Manhattan at all. 
Before you panic and start apartment hunting in different neighborhoods, there will be alternative ways to get to where you need to go if you're on the L line. 
No promises they'll be easy — or convenient.