Buying a First Home? Here Are the 5 Most Affordable U.S. Cities for Young People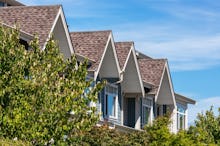 West Coast homes are brutally expensive for first-time buyers, but there are lots of great options for young people living in the Midwest, a new survey of home affordability from Bloomberg 
The survey looked at the 100 largest cities in the United States, measuring the difference between median household income for people ages 25 to 44 and the estimated amount of money one would need to purchase a single-family home. 
Here are five cities you'll want to consider if buying a home is part of your American Dream, ranked by how much money a median income-earner would have left over after a year of making mortgage payments:
1. Des Moines — $50,157 *
Des Moines, Iowa, was the most affordable city for first-time home buyers, with estimated monthly mortgage payments of only $613 — or $22,000 a year — even though the actual median household income for the city was $72,200 last year.
Six cities registered a negative "affordability gap" where the median income was lower than the minimum you'd need to make to buy a home.
Aside from Honolulu, five of the top six cities were in California. Here's how much more than the median income you'd need to make in each city to be able to afford to buy a home: 
1. Honolulu, HA — $25,607
One reason for such high prices is that housing supply on the West Coast hasn't kept up with job creation: Payrolls have grown by almost 9% in California since 2013.
Luckily for first-time buyers, there are still many affordable cities out there, some of which might surprise you. New York City, for instance, has a large metropolitan area with affordable suburbs relative to median income if you're willing to live far from the city center, Bloomberg found.
Housing costs break down to a few major factors, including the mortgage principal (plus interest), insurance, taxes and other fees. The Federal Housing Authority issues loans only if the expenses from buying a home will add up to less than 31% of your income. 
Read more: