4 Indian Teens Explain Why They Love Their Skin in a Powerful One-Minute Video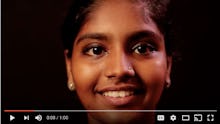 People around the world are spending over $10 billion to lighten their skin color. 
India happens to be one of the several countries where fairer skin has become the new obsession. In fact, the skin bleaching — or skin whitening — industry accumulates around $400 million a year — profiting off the insecurities of men and women in India.
But four teenage girls from Mumbai, India, aren't having it, Mashable reported.
Kranti, an NGO that empowers young girls from the red-light district in Mumbai, released video of these girls explaining why they love their own skin color. The one-minute video titled #EmbraceYourColor features the girls facing the camera, and speaking directly to viewers. They also said they won't succumb to the cultural beauty standards that deem people with darker complexions as undesirable.
"I am not fooled by the message that any one skin color is better than another," one teen said.
These girls did not mince words when they gave a blunt message to corporations that produce skin-bleaching creams.
"Unilever, Godrej, Emami, Nivea, L'Oreal, Procter & Gamble, Johnson and Johnson," the girls said. "You have built entire brands by playing on people's filth — maybe it's time to reevaluate. In the meantime, you can hold on to your discoloring creams, and I can hold on to my color."
What a powerful message to #EmbraceYourColor.
You can watch the video in full here:
Read More: