The Ultimate Proof That Obama's DNC Speech Was Epic AF? Republicans Loved It, Too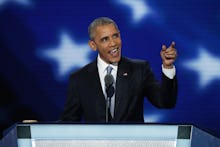 President Barack Obama took the stage at the 2016 Democratic National Convention in Philadelphia on Wednesday night to deliver a glowing endorsement of his party's presidential nominee, Hillary Clinton.
But Obama's speech was more than just a vaunted list of Clinton's uniquely presidential qualifications; the Commander in Chief also delivered an impassioned, optimistic description of the United States as a shining city on a hill, home to Americans, "of every faith, who believe that we are stronger together. Black, white, Latino, Asian, old, young, gay, straight, men, women, folks with disabilities, all pledging allegiance under the same proud flag."
It was a picture of unity and optimism that didn't just make the Democrats in attendance at the Wells Fargo Arena lose their minds in real time — it also drew bipartisan praise, even from some Republicans who have long been dismissive of the POTUS and his policies.
Blogger and self-avowed #NeverTrump supporter Erick Erickson tweeted that the speech was a marked departure from the GOP's own doom-and-gloom convention tone, and then added a text he had received from an unnamed senior House Republican: "We were supposed to make that sort of speech."
As RedState contributor Ben Howe put it, "The status quo is better than a dumpster fire in the name of conservatism by a sociopathic fraud."
Amanda Carpenter, CNN correspondent and contributor to the Conservative Review, pointed out that in a break from the convention traditions of years past, it was seemingly the left that invoked religion and God the most.
On Thursday, all eyes are on Clinton herself as she gears up to deliver one final speech to close out the convention. To watch it all unfold, you can watch the full livestream of the event here.
Read more: