MTV Launches MTV Classic to House Its '90s Gems: 'Daria,' 'Cribs' and 'Pimp My Ride'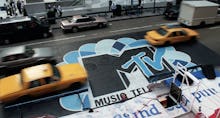 Remember when MTV still played music videos? Yeah, most probably don't. Remember when it used to play random cartoons, like Daria and Beavis and Butt-Head, and music-related shows, like Cribs and Punk'd? Those were the days.
To placate '80s and '90s kids everywhere who still rue the ever-widening gulf between today and their golden years with #TBT hashtags and Tumblr reblogs, MTV is resurrecting its classic '90s lineup within a new rebranded channel called MTV Classic, formerly VH1 Classic.
The channel will focus on "an eclectic mix of fan-favorite MTV series and music programming drawn from across its rich history, with a special focus on the 1990s and early 2000s," re-airing episodes of The Real World, Road Rules, Aeon Flux, Run's House, Pimp My Ride, Jackass, Wonder Showzen, Clone High and playing some of MTV's classic Unplugged sets from acts like Nirvana, Lauryn Hill and Jay Z, according to a press release sent to Mic.
"From Beavis and Butt-Head to Laguna Beach, MTV's programming vault is a music and pop culture goldmine with universal resonance," said Sean Atkins, president of MTV, in a statement emailed to Mic. "MTV Classic gives audiences a modern and artful home for classic MTV programming and — alongside MTV, MTV2, MTV Live and mtvU — rounds out a diverse portfolio with music and youth culture at its core."
The rebrand will go into effect Monday, Aug. 1 — 35 years to the day that MTV first debuted. The first thing it'll play is MTV Hour One, MTV's first hour of programming from 1981, to be re-aired again at noon and followed by Total Request Live, a documentary retrospective covering the "The TRL Decade."
All we need now to complete the experience is some Kool-Aid Jammers and Dunkaroos. Word on the street is you can still find the latter on Amazon for around $10 a pack.
Read more: