Cheddar's Waitress Calls Black Woman a "N*gger," But the Customer's Response Is Priceless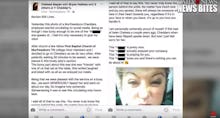 A server at a Cheddar's chain restaurant in Murfreesboro, Tennessee, has gone from taking orders to looking for a job after the establishment fired her for calling a group of customers "niggers" in a Snapchat post. 
The post, now circulating on Twitter, shows Snapchat user haybrown90 making a sour face, accompanied by the text: "I'm so hung over and have a section full of niggers right now." 
Lee Greer, president of the management group that owns Cheddar's in Murfreesboro, sent the following statement to WSMV:
We, ourselves, were shocked and offended after learning one of our servers had posted comments on social media that were hurtful and derogatory. This type of behavior will never be tolerated in our restaurants. The server was immediately suspended and ultimately terminated after our internal investigation.
The customers that the waitress served included Chelsea Mayes and four of her friends. The group had just left church before going to Cheddar's, where, according to the Daily News Journal, they joked and laughed with the waitress.
Mayes discovered the Snapchat story when a friend texted her a screenshot. 
"It was just shocking," the 22-year-old Mayes told the Daily New Journal. "It was hurtful."
Mayes took to Facebook to recount the events and offer a heartfelt response to the waitress. 
"This 'nigger' is pretty nice," Mayes wrote. "This 'nigger' actually enjoyed your company. This 'nigger' is praying for you. This 'nigger' love you and there's nothing you can do about it."
Mayes included the server's picture with the racist messages in her post. 
As our first lady Michelle Obama would say, "When they go low, we go high."
Read more: