L Train Alternatives for Williamsburg, Bushwick and Canarsie Residents in Peril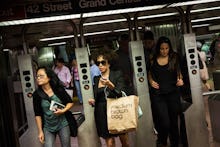 If there were ever a sign of the apocalypse, for New Yorkers who make the trek between Canarsie, Brooklyn and Manhattan's 14th street, it's the looming L train closure.
Whispers of the 18-month closure, tentatively due at the start of 2019, came this past January, when Gothamist reported the L train's Canarsie Tube would be shut down for repairs to damages from Hurricane Sandy. While there's no question that the fixes to the tunnel (which was severely damaged after being flooded with saltwater) are necessary, the estimated 300,000 daily L train riders are left with just one question — what the fuck are we supposed to do?
The first thing that came to mind for some straphangers was to swim.
But no fear: There are some other more conventional modes of transportation to consider.
To help ease the imminent chaos, the Metropolitan Transportation Association plans to "increase capacity" on the J, M, A, C, and G trains, even lengthening the G train to accommodate 160% more passengers, according to another Gothamist report. In May Assemblyman Joseph Lentol asked the MTA to preempt the shutdown by expanding the G train immediately so L train loyalists can begin to plan new routes for their regular commutes. Others told Gothamist they plan on using their cars to get around, while most will simply deal. 
"People think Hurricane Sandy happened so long ago, but it takes so long to rebuild," Brooklyn resident Carol Killiebrew told Gothamist.
"In Canarsie we're already used to being inconvenienced—let's just get it over with."
Read more: