'American Horror Story' Season 6: New Teasers Could Relate to Season 1's 'Murder House'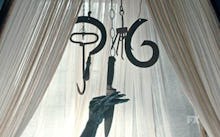 We're less than two months away from the season six premiere of American Horror Story, and the anthology series' new theme has yet to be announced. Fans were previously treated to a vague logo for the new season, which looks like a six and a question mark — how fitting! Now, FX has released the season's first cryptic teasers.
The teasers were released Wednesday on Snapchat, and subsequently posted in a compilation video on Twitter by a Lady Gaga fan account. The clips — six in total — range from a creepy, inhuman hand reaching for a knife outside of a crib to an isolated farmhouse with chimney rising in the form of the logo. 
Even within the nonspecific teasers, there are hints that season six will actually be a tie-in for the first season of the series, unofficially referred to as Murder House. The theory stipulates that the new season will be following the child that Vivian (Connie Britton) gave birth to, which Constance (Jessica Lange) ended up raising in her home. 
Back in season one, the baby was conceived when Vivian unknowingly had sex with Tate (Evan Peters) wearing a gimp suit but she thought it was her husband getting his freak on — the implication being that sex with the undead won't end well. It might even create the spawn of Satan. 
Indeed, the final scene of the season shows Constance returning to her house to find her nanny stabbed to death by the child, who's smiling maliciously next to the corpse. "Now what am I gonna do with you," Constance asks. 
Perhaps, as a means to keep other people safe, Constance sends the child to a secluded home (the home with the ominous chimney in the teasers?) so he isn't in the middle of Los Angeles with these murderous tendencies, per Murder House's location. Series creator Ryan Murphy also suggested children would be part of the new season's theme, which would make the most sense with the demonic child from Murder House or the popular Slender Man theory. 
Moreover, if the American Horror Story seasons are ostensibly related to one another, as many theorize, it would be a clever way to incorporate its flagship season back into the mix. Conversely, the fact that Lange is not slated to appear in season six is an argument against the theory — the character was such an integral part of the Murder House storyline.
One way or another, fans won't know what they're getting themselves into until American Horror Story actually returns Sept. 14 on FX.  
Read more: