Transgender Delegates at 2016 Democratic National Convention: Our Work Isn't Over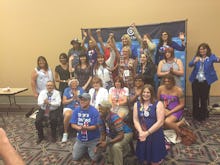 PHILADELPHIA — Transgender delegates at this year's Democratic National Convention say they've come a long, long way.
But to paraphrase President Barack Obama's keynote speech from the podium here Wednesday, they say there's much more to accomplish.
Much of the nomination's transgender set and their allies gathered Thursday morning for their first-ever trans caucus, ahead of another first: a landmark address to the nation by Sarah McBride, the first trans person to deliver a speech to a major party convention.
For Wendy Ella May, a military veteran and delegate from North Carolina who's also running for office back home, that there's a growing contingent of trans officials from her state at this year's convention is deeply personal.
"I'm in a red county — and when I say 'red county,' I'm the county that was the home of the Ku Klux Klan of North Carolina and had a sign until 1979 saying, 'Welcome to Johnston County, Home of the Ku Klux Klan,'" May said in an interview ahead of the convention's kickoff.
She paused.
"Now, imagine... I'm running, and I've got the support of not only my county party, but my state party — as a trans member of the community... [and] I am not only the first open trans candidate; I am the first open LGBT candidate in the history of this county. Ever."
Mara Keisling, a transgender delegate from Washington, D.C., led the morning's caucus.
Members noted, as Mic reported Monday, there are more openly transgender delegates serving here in Philadelphia than there were black delegates at the Republican National Convention in Cleveland last week.
Still, Keisling said, there's a ways to go: "We're a little short on trans-masculine people, on people of color, of youth," she said.
So the question, she said, becomes "how we can recruit more and more people."
Superdelegate Babs Siperstein, a septuagenarian transgender activist with four grandkids who was "New Jersey's first and only transgender power broker," according to the Star-Ledger, is in Philadelphia supporting Hillary Clinton.
"It's such a sea change," Siperstein said at the caucus meeting. "This is empowerment, it's hard work, it's smart work, showing up. We're only going to get bigger and stronger, We are now out and proud."
In an interview earlier in the week, Siperstein shared her thoughts on the partisan divide, saying, "The two parties are going in two different extremes ... and one's got nothing to do with the other," she said.
"Looking at the [Republican] convention, [it's] the angry white males, and you've got a few white women there too," she said.
Siperstein's own activism took off after her wife of 34 years died of ovarian cancer in 2001, she hasn't looked back since.
"At some point, I realized if gays and lesbians are treated like second-class citizens, what are trans people?" she said.
Philadelphia marked Siperstein's fourth convention as a delegate.
"The first one, nobody would say the word 'transgender,'" Siperstein said.
"We went to what they called the GLBT Caucus, and nobody would say the word... It was, 'gay, gay, gay,' 'gay and lesbian,' 'gay, gay, gay.' We could not get on the platform. This is in 2004, and things have gone a total 180. But it hasn't happened in a vacuum."
As to her own work to change the direction of the party, "Woody Allen once said that 80% of success in life is just showing up," Siperstein said.
"And I had opportunities to show up to different things. I opened my mouth. I'm not shy... If you don't have a seat at the table, you're probably lunch. It's that simple."
Emily Cahn contributed reporting.
Read more: