How the Wedding Industry Screws Over Working Women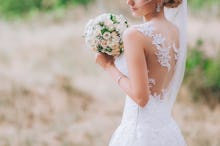 Your wedding day is supposed to be one of the most magical and memorable moments of your life. Plenty of women grow up fantasizing about the day they'll walk down the aisle, but fulfilling that vision is anything but easy. You have to assemble the perfect bridal party, pick the perfect hairstyle and makeup look for the day and, most importantly, find the perfect wedding dress.
Finding the gown of your dreams is no small feat, but how does the average woman — one with a moderate income and budget, who likely works full-time and is trying to plan her big day in the middle of real life —  manage to bring it all together? 
It's possible — but it's not easy. 
If you work a full-time job during normal business hours Monday through Friday (as an estimated 73% of women do, according to the United States Department of Labor), you might be hard-pressed to find several hours to dedicate to trying on dresses, having them altered and everything else that comes with the wedding dress shopping process. Sure, you could try to rush from the office at 5 p.m. to get in before the shops close, but how much time does that really leave you?
Karen Belz, 32, got married in late 2013, and she said that the limited business hours of wedding dress boutiques greatly limited her choices when it came to deciding where to look for her dream dress. Hard-pressed to find boutiques with evening hours, she was ultimately forced to resort to larger bridal shops that could accommodate her schedule.
"I got engaged the same week I started a new job, and I didn't accrue any time off for a year, so I made sure to only shop at stores and hire services that had later hours, or weekend hours," she said in a phone interview. "I don't think my job at the time would have minded a personal day or two, but since you're working with so many vendors, it'd be kind of ridiculous if I constantly called out based on bridal reasons. My boss would not have been happy."
Belz had to make a choice between taking time off from work to find her dream dress at a smaller boutique or opting for a larger store like David's Bridal, which offers business hours until 9 p.m. It was an easy decision to make: she simply had to go with the vendor who could accommodate her busy schedule.
Belz's experience is all too common, as Sara Jesmond, 33, who's planning to marry later this summer, said. She's currently working her way through graduate school in addition to her full-time job, and she finds it nearly impossible to find boutiques that can accommodate her busy schedule. A few have even suggested that she utilize vacation time in order to dedicate all of her time to shopping.
"One boutique on the Upper West Side [in New York City] — I won't name names — asked if I could take time off of work to come in during the week," Jesmond said in a phone interview. "They had Saturday hours listed on their website, but when I mentioned that, she said those were for private clients. Wasn't that what I was?" She ended up calling five or six different shops before finding one that offered to stay open later on a Tuesday night to accommodate her.
The difficulty in planning a wedding as a working bride isn't limited to just finding the perfect dress. Depending on the size and scope of the ceremony, there are several other elements that need to be meticulously planned, such as catering, venue booking and even deciding on floral arrangements.
New York City wedding florist Bride & Blossom offers a beautiful array of bouquets for both the bridal party and wedding venues as a whole based on personalized customization — but unfortunately, they're closed on Fridays, Saturdays and Sundays to prep for planned weddings, canceling out perhaps the biggest chunk of time most working women have to dedicate to wedding planning. 
While their weekday hours are slightly better — they're open until 8 p.m., though they only do consultations on Tuesdays and Thursdays, according to founder Rachel Trimarco — it's still inconvenient for many.
On top of that, even getting in touch with someone to inquire about their services via phone bordered on impossible. Roughly half a dozen calls made by Mic over several days went unanswered, with no option to leave a voicemail or request a returned call. Phone calls to several other New York City bridal flower companies rang and rang without being answered, many of which directed callers to fill out an online inquiry form.
While brides could take time off or organize their schedules to plan their weddings, it seems abundantly clear is that bridal shops, caterers and other vendors require more flexibility to fit into a working woman's busy schedule. 
Read more: