Pharrell Williams Won't Let Hate, Intolerance or Donald Trump "Take Us Back 200 Years"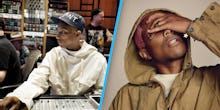 Few artists in recent memory have done more to prove that the political can be pop than Pharrell Williams. He's a master of the auditory double-take, veiling revolutionary messages of self-love in irresistible melodies, as he did on his 2013 animated theme song turned global protest anthem "Happy," and on 2015's "Freedom." In 2016, when many seemingly view celebrating acceptance and tolerance as radical acts, his message could not be more salient. While Williams hasn't had a solo single this year, he's still finding ways to get these messages across.
"I'm a perpetual optimist, and I believe the only way to beat negative propaganda is through positive action, and continuing to stay focused," Williams said in a recent phone interview, discussing the launch of his creative company, I Am Other's, newest philanthropic partnership. "We need to promote individuality."
This mission is at the forefront of the Grammy-winning artist's newest venture: a collaboration between I Am Other and the children's school supply company Yoobi, seeking to help young people embrace their individuality while supporting students in need. Each purchase of the vibrant, limited edition stationary will have a matched donation delivered to a school in need. They come with uplifting slogans — "There's room under the sun for everyone" and "That which makes you different makes you special." 
For Williams, it's his small way of helping kids understand "they have the right to feel whatever way they feel, and express themselves in any fashion," he said, "as long as it's not harming anyone else."
"There is currently a divisive wind blowing throughout the world," Williams said, discussing the environment his collaboration seeks to disrupt in his characteristic poetry. "A lot of it was mustered here, but it blew across the trans-Atlantic. Now, we're watching the fallout of Brexit. What the world is seeing is a small group of people who mastered that divisive wind, and now they are flying their kites. 
"But when people recognize our differences make us special, when we bring communities together to celebrate our differences, we make fairer laws, fairer considerations ... equality becomes possible."
This is a message Williams has been preaching for years. He predicted Hillary Clinton would be the next president of the United States in a 2014 GQ interview, foreshadowing her call for unity. He used his 2015 Grammy's performance to subtly nod to the Black Lives Matter movement. More recently, he appeared in Mic's 23 Ways video supporting Alicia Keys' We Are Here movement, demanding racial justice and equal policing.
However, despite his criticism of Trump and those who wear xenophobia on their sleeve, Williams stresses that people are divided everywhere — and a sea change in cultural consciousness is what we need to reverse the systemic divisiveness.
"As much as I disagree with so many things Donald Trump says — and I'll point out that this is someone who incites fear and paranoia — I even see this divisiveness in people with the right intentions in mind," Williams said. "Without any kind of unity we're just stepping into a really dark future. I think we can defeat that by celebrating who all of us are. Even amongst the freedom fighters there are differences. You've got to look at the other."
Teaching acceptance starts with parents, it starts with schools, Williams believes. But with the right tools, the right thinking, we can create a new world where difference isn't seen as threatening.
"I think it's wrong when parents impose their views on ethics and morality," he said. "Even if you and your upbringing conflicts, it's our responsibility to teach acceptance.
"This is a different life and a different world. They shouldn't be stopping us and trying to take us back 200 years."
Read more: