Matt Damon Gets All the Screen Time in 'The Great Wall' and People Are Pissed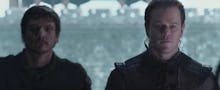 The new trailer for the action film The Great Wall starring Matt Damon may have more in common with Donald Trump's proposed wall than China's — because it's pretty good keeping out people of color. 
People from all corners of the internet gathered to ask one simple question to the film's star: Why are you white? 
The film's trailer debuted online Thursday morning and has already garnered swift criticism for placing a non-Asian actor in a lead role for a film about the Great Wall of China. While details of the film are still under wraps, the trailer suggests that the wall may actually be meant to keep out larger-than-life monsters.
Asian-Americans are still woefully underrepresented in Hollywood. Scarlett Johanssen and Tilda Swinton both recently came under fire for landing roles meant for Asian actors, prompting Asian actors like Constance Wu to speak out against whitewashing in Hollywood films. In 2015, Cameron Crowe apologized for casting Emma Stone as an Asian woman in his box-office bomb Aloha. 
After reports leaked that producers of the film Ghost In the Shell tested technology to make Johansson look Asian, fans of actors Constance Wu and John Cho created memes replacing leads in Hollywood films with Wu and Cho. 
People on Twitter decried the film's lack of an Asian actor in the film. 
The film's poster features Damon's face along with the tagline "What were they trying to keep out?" While the actual answer is that the Chinese were trying to keep out foreign invaders like Mongolians, the internet had quite a bit of fun with that question. 
Damon has previously come under fire for his serious misunderstanding of racism in Hollywood. On an episode of HBO's Project Greenlight, the actor mansplained diversity to black producer Effie Brown, saying that diversity in front of the camera matters much more than diversity behind the camera. 
Though Great Wall uses Asian actors in side roles — the film also stars Asian actor Andy Lau — it puts white actor Matt Damon front and center in a narrative about one of Asia's greatest wonders, and that's an idea we should be trying to keep out of Hollywood. 
Read more: