Chloë Grace Moretz Is Speaking at the DNC — Here's What You Should Know About Her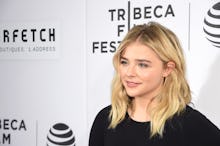 Last week, actress and model Chloë Grace Moretz announced on Instagram and Twitter that she'd be speaking at the Democratic National Convention, to mixed reviews. 
Slate writer Heather Schwedel called the choice to ask Moretz (along with the other female celebrities who've already graced the DNC stage) "odd," while the Daily Beast dubbed the 19-year-old the "Scott Baio of Hillary Clinton's DNC." 
Most recently, Moretz was the star of Neighbors 2: Sorority Rising, a feminist take on its precursor, starring Seth Rogen and Zac Efron. The movie's message of gender equality (albeit in this case, the equal right to party) resonates with Moretz's own feminist views, which she shared with Glamour in an interview this past May.
Moretz told the publication that while when she was younger, feminism meant being equal to her four brothers, but her understanding of the term has since evolved. "So now, for me, feminism means equality for people of all genders, races and economic situations," said Moretz. "But at the same time, I never really thought that feminism was about hating men; I was afraid that people would view me that way."
However, lately Moretz's name has been attached to a number of celebrity feuds, apparently clashing with other celebrities' feminist sensibilities and beliefs about how women should treat each other. 
In March, Moretz commented on Kim Kardashian West's nude selfie, siding with those who felt the reality star had a responsibility to maintain a certain level of modesty, and taking time to remind the mother-of-two "how important setting goals [is] for young women."
And just last week, she became embroiled in the Kanye West-Taylor Swift feud, tweeting that the hype over Kardashian West's scathing Snapchat story was "petulant and unimportant." The tweet earned Moretz a fair amount of backlash.
Celebrity drama aside, Moretz is also known for using her platform to speak out about politics, specifically to endorse Clinton and to encourage young women to do the same .
"Don't be afraid to vote for Hillary just because she's a woman," the actress told told People in February. "Vote for Hillary for the things that she stands for. Vote for Hillary for what she backs and what she supports."  
Read more: