Ibtihaj Muhammad Powerfully Explains How It Feels to Be First Hijabi Muslim US Olympian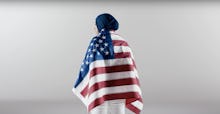 Ibtihaj Muhammad is the first Muslim woman to represent the U.S. Olympic Team while wearing the hijab.
The fencer was featured in a powerful video campaign by Mini USA, #DefyLabels, that shares the stories of Olympic athletes who are shattering stereotypes. Muhammad, who will be competing in the 2016 Rio Olympics, explained what it means to her to be a black Muslim woman on the team.
Muhammad talks about how her family would encourage her to be active and participate in athletics. Since she is Muslim and wears the headscarf, she says her parents always had to alter her uniforms to comply with her values and faith. It often led to alienation growing up.
"As a Muslim youth, and as someone who wears the hijab, my parents always had to change the uniform for me," Muhammad says in the video. "When my teammates wore short sleeves or shorts, I would have to wear long sleeves and pants in addition to the hijab."
The 30-year-old world-class athlete also says she constantly faced obstacles.
"I just remember being ostracized and being told that there were things that I couldn't do because I was black or there were things I couldn't do because I was Muslim," she says. "Or there were limitations because I was a girl."
Muhammad also says representing the U.S. in the Olympics as a Muslim woman isn't just for herself, but for the greater Muslim community.
"When I realized that there had never been a Muslim woman who wore the hijab to represent Team USA, I wanted it, you know, not just for myself but for my community," she says.
Despite gaining sponsorships from global companies like Visa, Muhammad isn't immune to Islamophobia or anti-Muslim discrimination.
In March during South By Southwest, the registration team at the festival asked Muhammad to remove her headscarf for a photo ID, and then she was given a credentialed pass with the wrong name.
"I think that I've always been very unapologetic about who I am and my beliefs," Muhammad says in the video.
"Throughout my entire life, I feel like I've tried to combat these stereotypes," Muhammad adds. "It's always just been a part of who I am to prove others wrong and show them that this is how strong women can be; this is, you know, the things that Muslim women can do."
You can watch the inspiring video below:
Read More: