Here's Hillary Clinton's Stance on Gun Control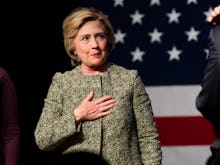 2016 has been a tough year for gun control advocates. 
From a mass shooting at an Orlando, Florida, gay bar that killed 49 victims to a rash of toddlers accidentally shooting and killing themselves and others by deploying unattended firearms, legislation to control who can legally purchase guns in the United States is an issue that's top of the mind for many liberal voters.
So what does Hillary Clinton, the Democratic nominee for the presidency, think we should do to minimize gun violence in the United States?
Clinton, who vowed she would "tackle the gun lobby" on her first day in office, has stated publicly she unequivocally supports the gun regulations proposed by the Obama administration.
On Jan. 5, the same day a tearful President Barack Obama announced new executive actions that would allow for a more robust background check process, Clinton said on a segment of Hardball With Chris Matthews she also supported strengthening existing restrictions on who can legally purchase firearms.
"I do support comprehensive background checks, and to close the gun show loophole, and the online loophole, and what's called the Charleston loophole and to prevent people on the no-fly list from getting guns," Clinton said. "What I am proposing is supported by a great majority of the American people and a significant majority of gun owners."
On her website, Clinton listed a number of "common-sense approaches" she would take to ensure enforced gun restrictions if elected, which include "making it a federal crime for someone to intentionally buy a gun for a person prohibited from owning one, and closing the loopholes that allow people suffering from severe mental illness to purchase and own guns."
She also stated she supports working to keep "military-style weapons off our streets," and, in the wake of Orlando, said she supports the reinstatement of the assault weapons ban.
Ahead of November's general election, Clinton will square off against her Republican rival Donald Trump in a series of debates, where the topic of gun control will undoubtedly be a hot-button issue. 
Read more: