New Video Reveals the Most Controversial iPhone 7 Feature Yet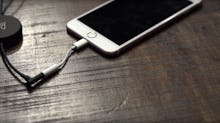 The iPhone 7 might not be totally different from the iPhones currently on the market, but it's supposedly going to be lacking one key feature: a headphone jack.
While nobody knows for sure what the next iPhone will look like, many leaks have suggested the iPhone 7 will not have a headphone jack, meaning in order to listen to music, you'll have to buy Bluetooth-connected headphones, lightning-cable-connected headphones or just an adapter. 
A new video unearthed by 9to5Mac shows a headphone-to-lightning-port adapter that the uploader says he got from a Foxconn facility in Vietnam. Foxconn, which is headquartered in Taiwan, manufactures parts for Apple products. 
Lightning-cable-to-headphone adapters already exist, but they're uncommon in the U.S. It's unclear if the adapter would come with the iPhone 7 or if you'd have to buy it separately. 
Read more: