How Did the 'Shelby County v. Holder' Supreme Court Decision Change Voting Rights Laws?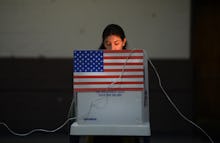 The Shelby County v. Holder decision is three years old, but it's expected to make a huge impact at the polls for the 2016 presidential elections. 
The Supreme Court struck down Section 4 of the historic Voting Rights Act of 1965 that required certain states to gain approval from the federal government before making any changes to electoral law. This precedent was set after years of voter suppression forced upon African-Americans during the Jim Crow era in the South. Black constituents were required to take litmus tests and pay expensive fees just to register to vote. 
After the Shelby County decision in 2013, North Carolina almost immediately implemented laws that required constituents to provide photo IDs and non-photo documents in order to register to vote. Thus, discriminating against many minorities like African-Americans, Latinos and those who cannot afford the fees associated with obtaining these forms of identification. 
Yet on Friday afternoon, the 4th Circuit Court of Appeals struck down the state's voting restrictions. This decision came on the heels of the 5th Circuit Court of Appeals striking down a racist voter ID law in Texas.
However, civil rights activists are afraid that Shelby County v. Holder will revive systemic discrimination in the voting process for the upcoming elections.
Anita Earls, executive director of the Southern Coalition for Social Justice, is one of these activists. In a press release in June by the Leadership Conference on Civil and Human Rights, Earls said the Supreme Court decision already negatively impacted the voting process for North Carolina constituents.
"What we are seeing in North Carolina is that more people are being disenfranchised than the margin that decided our recent governor's election and other recent elections in our state," Earls said. "These voter suppression measures passed in the wake of Shelby — like ending same day registration, ending out-of-precinct voting, and others — are truly having an impact on our ability to vote. We hope that these measures will not be in place in November 2016."
According to a 2016 Leadership Conference Education Fund report titled "Warning Signs: The Potential Impact of Shelby County v. Holder on the 2016 general election," four other states have been negatively affected by the Shelby County v. Holder decision. 
Here's what the report found
In Florida, five counties were required to go through a pre-clearance screening with the federal government before implementing any changes to their voting laws due to concerns of anti-Latino discrimination. In 1975, for example, voting ballots were only printed in English despite having a large number of Spanish-speaking constituents.
After the Shelby County v. Holder decision, Monroe County in Florida immediately reverted back to English-only ballots. Since 2013, two polling sites were closed or moved into a different location in predominantly black communities — adding more strife to the lack of polling sites and long lines in marginalized communities.
Virginia placed strict restrictions on community-driven voting initiatives after Shelby County v. Holder. These restrictions include prohibiting pre-populated registration forms, and the deadline for returning voter registration form to Florida Elections Commission was shortened. These restrictions predominantly discriminated against the Latino population that relies on community-based voter registration drives. 
After implementing voter ID laws, the NAACP Legal Defense Fund found that approximately 197,000 registered Latino voters don't have the required identification necessary to vote at the polls. In fact, the defense fund believes about 45,000 registered Latino voters will have a harder time voting in the 2016 elections than they did in 2012 since they do not own required identification.
In Arizona, reducing the number of voting polls became a key method in voter suppression against minority communities. During the 2016 presidential primaries, Maricopa County decreased polling sites by 70% — only 60 polling sites were available in 2016 compared to more than 200 in 2012. The minimizing of polling sites in Maricopa, the largest county in Arizona, led to long lines stretching for several blocks with long wait times and discouraged many constituents from voting. According to the report, the polling sites that were shut down were mainly located in predominantly Latino and black communities.
Georgia, a state with a long history of racial discrimination in voter registration, had a significant number of attempts in voter suppression in the last three years since Shelby County v. Holder. In October, Hancock County's Board of Election — composed of mainly white members — purged 53 voters in Sparta, Georgia, from the voting registration list. Nearly all of the voters removed from the list are African-American. The NAACP filed a lawsuit against the county in the following month.
Morgan County closed more than one-third of their polling sites in 2013 and also opened two new polling locations at police stations. The Legal Defense Fund reported that one city council member in Morgan County suggested these shutdowns and alterations of polling sites will largely affect minority communities.
"The closures would disfranchise low-income voters and voters of color, many of whom lack cars and would have difficulty reaching the reassigned polling sites," the city council said as stated in a LDF report.
Your vote matters. Get registered here!
Read More: