Chili Granola Is the Hot-as-Hell, Crunchy Condiment You Didn't Know Your Life Was Missing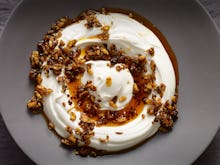 If you think hot sauce is the perfect condiment, we need to talk. 
A company called Bad Seed is taking everything good about hot sauce — the heat, the takes-a-second kick — and is serving it with texture, a component that, up until now, has been sorely overlooked. 
Aptly called Chili Granola, the product is essentially granola steeped in chili oil. The company's granola recipe mixes rolled oats with nuts and seeds, founder Peter Cortez explained in an email. Bad Seed uses almonds ("for crunch"), hulled hemp seeds ("which adds a fun flavor similar to pine nuts") and coconut palm sugar and applesauce for sweetness. 
The granola is then mixed with a potent chili oil. "[We] make our own gochujang, (a Korean condiment that is known for its sweetness and umami flavor profile)," Cortez said. That's all combined with with toasted sesame oil, which adds a nutty layer of flavor, and fried garlic, ginger and shallots for crunch. The heat comes from a mix of three different types of chili powders, including cayenne, anaheim and Korean chili powder.
It all results in something that, once you taste it, you realize you've been missing for a long time. It's fit for anyone in search of a more interesting alternative to Sriracha. 
So how do you eat Chili Granola? Cortez said it should be treated more like a hot sauce and less like a granola. "[It's] a condiment to top and add some heat and texture to your favorite foods," he said. He said some like to put it on dishes of plain yogurt, plates of avocado toast, on rich soups like one made with butternut squash and even on tacos ("almost like chicharron crumbles"). Cortez likes to sprinkle the granola on eggs too. 
If you're really feeling it, you could eat the crunchy stuff straight from the jar, but you better have a high tolerance for heat: The granola packs a punch. 
Nutritionally speaking, the condiment is more like granola than hot sauce. A two-tablespoon serving contains 90 calories and 7 grams of fat. Sriracha, on the other hand, has 20 calories and 0 grams of fat in the same serving size. 
The Chili Granola is currently available online and at a number of stores across New York City. Bad Seed plans to launch a number of new flavors, and is inspired by spicy flavor profiles in other parts of the world, Cortez said. A whole new, granola-free condiment made with this special chili oil is also in the works, which should give customers a number of different hot sauces to keep in their bag. Swag. 
Read more: