Hillary Clinton Rose to the Occasion at the DNC — But Trump Did Much of the Work for Her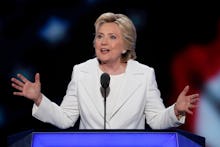 PHILADELPHIA — Casting herself as a public-spirited guardian of America's civic virtues, Hillary Clinton offered herself to voters on Thursday as a steady hand at a "moment of reckoning," forcefully indicting Republican presidential candidate Donald Trump as uniquely unfit to lead the country.
The Democratic presidential nominee's speech at the party convention summoned the same spirit of optimism and liberal idealism that President Barack Obama conjured here on Wednesday — but with an added emphasis on what she described as the threat Trump poses to the country's fundamental values.
Without Trump as her foil, the soaring themes of patriotism, inclusion and compromise Clinton sounded would likely have been far less compelling.
"Powerful forces are threatening to pull us apart. Bonds of trust and respect are fraying. And just as with our founders, there are no guarantees," Clinton said, speaking in the same city where Thomas Jefferson drafted the Declaration of Independence.
Framing the election as a test of the nation's character, she continued, "It truly is up to us. We have to decide whether we will all work together so we can all rise together."
Stanching the bleeding: Accepting the nomination as surveys show Trump polling even with or ahead of Clinton, she moved to assuage voter doubts about her character, which have been stoked by the firestorm over her email practices as secretary of state and which may prevent her from ultimately shattering the country's highest glass ceiling.
After nearly 25 years in the national spotlight, Clinton couldn't easily reintroduce herself to voters. Instead, she sought to explain herself to them.
"The truth is, through all these years of public service, the 'service' part has always come easier to me than the 'public' part. I get it that some people just don't know what to make of me," Clinton said.
"So let me tell you: The family I'm from, well, no one had their name on big buildings," she continued, working in a dig at Trump and seeking to undercut his popularity with working-class voters. "My family were builders of a different kind. Builders in the way most American families are. They used whatever tools they had — whatever God gave them and whatever life in America provided — and built better lives and better futures for their kids."
Those same hopes, she said, fueled her career in public service.
A gift from the GOP? Meanwhile, Clinton castigated Trump for his ominous and divisive campaign message, rejecting the notion that "our country is weak."
"He's taken the Republican Party a long way from 'morning in America,' to 'midnight in America,'" she said, riffing on the campaign slogan employed by President Ronald Reagan.
That invocation showed that Clinton has come a long way from 2008, when she blasted her then-primary rival Obama for praising the 40th president, whose conservative revolution upended the post-World War II center-left order.
But the GOP has been fundamentally transformed, too. Whereas Reagan signed into law a broad amnesty bill for undocumented immigrants, Trump pledges to build a wall along the U.S.-Mexico border and deport the estimated 11 million immigrants living in the country illegally.
"We will not build a wall. Instead, we will build an economy where everyone who wants a good-paying job can get one. And we'll build a path to citizenship for millions of immigrants who are already contributing to our economy," Clinton pledged Thursday night.
Trump's incendiary rhetoric and campaign positions have alienated more than just Latinos, a growing segment of the American electorate. They've also turned off many of his fellow Republicans — a point highlighted shortly before Clinton spoke, as once-loyal GOPers took the stage to make the case for her candidacy and to lament their party's direction in the age of Trump.
Taking aim at Trump's laundry list of mockery and insults, Clinton asked voters whether they were really prepared to install him in the nation's highest office.
"They think he couldn't possibly mean all the horrible things he says — like when he called women 'pigs,'" Clinton said, characterizing many voters' attitudes. "Or said that an American judge couldn't be fair because of his Mexican heritage. Or when he mocks and mimics a reporter with a disability. Or insults prisoners of war like John McCain — a true hero and patriot who deserves our respect."
Jeb Bush may have been "low energy," as Trump tarred him — but he'd never have handed Clinton such a blistering line of attack.
Would she really have been able to credibly charge that Scott Walker, the mild-mannered Wisconsin governor, was too volatile to be trusted with the nuclear codes?
Nor would she have been able to paint Marco Rubio as an uncaring plutocrat whose concern for working Americans is phony.
"How is Hillary Clinton going to lecture me about people living paycheck to paycheck?" Rubio asked at a GOP debate last year, in a moment that showed why many Democrats feared facing him. "I actually lived paycheck to paycheck. I grew up living paycheck to paycheck. I want to know how she's going to lecture me on student loans, since I had one up until four years ago."
Conservative writer Charles Cooke spoke for many of his ideological compatriots in decrying what he called a missed opportunity on Thursday.
But while a less inflammatory GOP candidate would likely have had far better odds against Clinton — particularly after two terms of a Democratic president and amid mounting concerns over national security — Trump's not-insignificant chance of victory points to the visceral populism felt by much of the electorate.
That sentiment may lift the GOP's fortunes in Rust Belt states like Ohio and Pennsylvania, but Trump's toxic image with minority voters could put crucial states like North Carolina, Virginia, Colorado and Florida out of reach, all but ensuring a Clinton victory.
A momentous occasion: Still, as much as Clinton's performance Thursday stemmed from the good fortune she's had in drawing an opponent who repels so many voters, it would have marked a momentous occasion in American history regardless of her GOP rival.
"As a lifelong public servant, Hillary persevered and continued fighting for the American people in spite of the challenges that come with being a woman in a male-dominated field," Stephanie Schriock, the president of Emily's List, said in an email statement.
For Clinton, it was a night more than a decade in the making. Her long-planned bid for the nomination in 2008 — once regarded as a sure thing — fizzled in the face of Obama's challenge, forcing Clinton to place her presidential dream on hold.
Taking the stage to the triumphant lyrics of Rachel Platten's "Fight Song," this indisputably tenacious woman radiated ebullience as she moved closer than she's ever been to achieving that dream.
Read more: