2 San Diego Police Officers Shot, 1 Suspect In Custody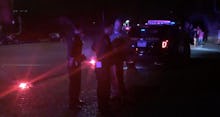 Two San Diego Police officers were shot around 11 p.m. Pacific time on Thursday, according to NBC San Diego. In the hours following the shooting, police took one suspect into custody and led an active search for other suspects still at large. 
The San Diego Police Department announced on Twitter that one officer died. The second officer recently came out of surgery and is expected to survive, the department tweeted.
In a 2:17 a.m. tweet, the San Diego Police Department said two officers had been shot, and asked people to "keep them in your prayers."
According to the the Chula Vista Police Department, the shooting occurred on the 3800 block of Acacia Grove Drive, NBC San Diego reported. 
The SDPD told residents to "shelter in place" as it conducted an active search for suspects around the 3800 block of Boston Avenue. 
At 3:34 a.m., the SDPD tweeted that it had one suspect in custody. "We are still searching the area for other possible suspects," the department said.
The officers, both part of the SDPD's Gang Suppression Team, were shot during a traffic stop, KGTV San Diego reporter Jared Aarons reported on Twitter. 
The slain officer left behind a wife and kids, according to KGTV reporter Brian Shlonsky.
Earlier this month, on July 7, five police officers were shot and killed near a protest in downtown Dallas. On July 17, three police officers were killed and others wounded after a shooting in Baton Rouge.
This story is breaking and will be updated.
Read more: