The Very Feminist Reason Why Hillary Clinton Might Have Worn That White Pantsuit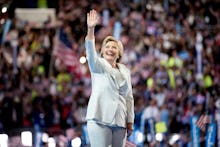 Last night at the Democratic National Convention in Philadelphia, Hillary Clinton made history — so it was only appropriate that she used her outfit to make a nod to the past. 
For her convention speech, in which she would formally accept the Democratic nomination and therefore become the first woman to run as a major party's presidential candidate, she wore a white pantsuit. It hung just right on her shoulders, nipped in just right at the waist. With rumors of Vogue editor Anna Wintour now helping to style the Democratic nominee, she could have gone for a dress, or a skirt suit, but no. By wearing a pantsuit, a silhouette that has long been her signature, she was sticking with what she knew worked for her. 
But Clinton also must have understood the weight of the moment, and just how historical her nomination will be — regardless of what happens in November. Because by choosing white, she was making a subconscious nod to some of the most determined political women before her — the suffragettes. 
As many users on Twitter pointed out, Clinton's outfit mirrored those worn by suffragettes in the early 20th century. 
Back then, suffragettes wore white to symbolize femininity, purity and high morals. "They sought to effect change not by challenging contemporary fashion and ideals of femininity, but by conforming to them," the Guardian reported on suffragette fashion.
The year 2016 marks the 100th anniversary of the formation of the National Woman's Party, which was formed to rally for a national suffrage amendment. If Clinton ends up getting elected in November, she may be in the White House to celebrate the 100th anniversary of the 19th amendment in 2020. 
"Standing here as my mother's daughter, and my daughter's mother, I'm so happy this day has come. Happy for grandmothers and little girls and everyone in between," Clinton said in her speech on Thursday. "Happy for boys and men, too — because when any barrier falls in America, for anyone, it clears the way for everyone. When there are no ceilings, the sky's the limit." 
Clinton is not the first female politician to wear white during an extremely historic moment. In 1984, when Geraldine Ferraro made history as the first woman to ever accept the vice presidential nomination for a major party, she also wore white. 
However, there are also many more connotations that come with the color white. There's innocence. There's still purity. It is also the only color that appears on the American Flag that is not associated with one major political party. By showing up in white, Clinton was calling for a sense of unity and, maybe, even peace. 
We may never know what Clinton's intentions were by wearing white. She could have simply just felt great in that one suit. But from a historical perspective, this one sure did feel special. 
Read more: