Taylor Swift Is Literally Sidestepping Paparazzi After Kim Kardashian West's Snapchat Hit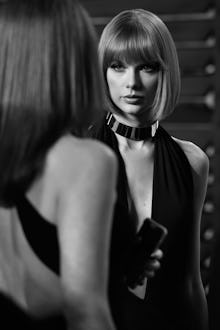 Has anybody checked on Taylor Swift? Seriously, do we know if she came out of Kim Kardashian West's historic pulling-of-receipts in one piece? 
After Kardashian West decidedly set the record straight about her husband Kanye West calling Swift for permission to refer to her in the song "Famous," it's become clear the "Bad Blood" singer is hardly as untouchable or as innocent as she once seemed. Swift hasn't posted a single tweet since the news-breaking ordeal; she's only shared one photo on Instagram, and it's an old photo of her and Selena Gomez, one of the few people who defended Swift during her onslaught of attacks — before being quickly shut up herself. 
Now, in one of the most telling inside looks at the star's current state of affairs, Swift is apparently avoiding being seen by paparazzi by literally sidestepping them on her way to her car. No, seriously: Swift is walking sideways like crabs do to avoid a photo of her face getting posted online.
Swift was leaving her gym earlier in the week when a group of photographers who were staked outside began snapping her as she walked to her car. Apparently aware of their rooftop positioning, Swift can be seen in a bizarre strut to her car, attempting the most low-key escape in history. 
Of course, it's pretty creepy that there are photographers spending their day chasing Swift around for a mere photo of her leaving her gym. But the pop star is more than used to it — she's gloated to Seth Meyers about her ability to look nightclub ready immediately post-workout: "Doesn't everyone look like that?" she joked. 
Well, it looks like the only one laughing now is Kardashian West.
Read more: