Stephen Colbert Gets Why Hillary Clinton's Nomination, Despite a "Fart-in," Was Important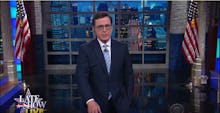 On Thursday night, Hillary Clinton became the first female presidential candidate from a major political party — a historic feat. But this affront to the patriarchy was met with its own transgressions from certain Democrats, as Stephen Colbert explained on The Late Show. 
Some ardent Bernie Sanders supporters — refusing to support Clinton, despite her winning the Vermont senator's endorsement — planned a "fart-in" protest at the convention. Part of the protest, for the purpose of making it more effective, included the protesters eating a lot of beans beforehand. 
Regardless of the purported flatulence, Clinton was able to accept the nomination — an accomplishment put into context later in the show when the female leads of Comedy Central's Broad City celebrated the nomination as women from 1776, shocked that it took over 200 years for a female presidential candidate. 
"It's the biggest breakthrough for women since they won the right to bust ghosts," Colbert says. 
Now Clinton will squarely face off against Republican candidate Donald Trump, who was also in the spotlight this week for suggesting that Russia should try to hack the rest of Clinton's emails. But as Colbert noted, Trump backtracked from his previous statement in an interview on Fox News, with the real estate mogul saying it was a sarcastic comment. 
"If Donald Trump says he wasn't conspiring with a foreign government — he was just being sarcastic — I want him to know, I totally believe you," Colbert concludes.  
Watch the full segment from The Late Show below: 
Read more: