Democratic Convention 2016 Full Recap: Highlights, Best Speeches and More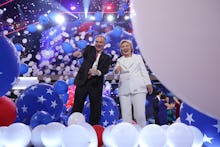 On Thursday night, Hillary Clinton formally accepted the Democratic nomination for president of the United States, making her the first woman to be nominated for president by a major U.S. political party. The historic moment at the Democratic National Convention in Philadelphia capped off a rousing four days of powerful speeches, protests and celebrity appearances.
Here are the highlights from the 2016 DNC.
Day 1
First lady Michelle Obama was arguably the standout speaker of the night. She asked voters whether they wanted Clinton or Republican presidential nominee Donald Trump to lead the country, positioning them as a positive role model and a hateful bully, respectively.
In a powerful moment, Obama reflected on the country's progress. "I wake up every morning in a house that was built by slaves," she said. "And I watch my daughters — two beautiful, intelligent black young women — playing with their dogs on the White House lawn.
"And because of Hillary Clinton, my daughters — and all our sons and daughters — now take for granted that a woman can be president of the United States."
Another great speech came from 11-year-old Karla Ortiz. Ortiz, who was born in the U.S. to undocumented immigrant parents, described the fear she lives with that her parents might one day be deported.
"I don't feel brave every day," Ortiz said. "Most days I'm scared. I'm scared at any moment my mom and my dad will be forced to leave. And I wonder what if I come home and find it empty?"
Meanwhile, "Bernie or Bust" protesters vowed not to support Clinton — their ire fueled by leaked emails suggesting the Democratic National Committee was biased against the Vermont senator. 
"You're being ridiculous," comedian and actress Sarah Silverman told the Bernie or Bust protesters in her Monday night speech. 
Day 2
On July 26 we met the Mothers of the Movement — mothers whose black sons and daughters have been killed by police and gun violence. The group talked about Clinton's criminal justice platform and why black lives matter.
"You don't stop being a mom when your child dies," Lucy McBath, the mother of Jordan Davis, said. "I lived in fear my son would die like this."
Lena Dunham and America Ferrera also took the stage. The celebrity duo mocked Trump's past sexist and racist comments. 
"Hi, I'm Lena Dunham and, according to Donald Trump, my body is probably like a two," Dunham said.
"And I'm America Ferrera, and according to Donald Trump, I am probably a rapist," Ferrera chimed in.
The night concluded with a speech from Bill Clinton. In an impassioned speech, he called his wife a "change-maker."
"She always wants to move the ball forward. That's just who she is," Clinton said.
Though his words resonated with many, some called out the former president for having pushed for conservative criminal justice measures during his time in office. 
Day 3
Wednesday was an emotional night for DNC speakers and viewers alike. Christine Leinonen, whose son, Christopher "Drew" Leinonen, was killed alongside his boyfriend in the shooting in Orlando's Pulse nightclub, spoke about the importance of gun control. 
"The weapon that murdered my son fires 30 rounds in one minute," she said, tearfully.
Other gun control speakers included Erica Smegielski, whose mother, Dawn, died in the Sandy Hook shooting, and Felicia Sanders and Polly Sheppard, who survived the Mother Emanuel Church shooting in Charleston, South Carolina. 
Then came the political heavyweights: Clinton's running mate Tim Kaine — who assumed the additional role of America's dad — Vice President Joe Biden and President Barack Obama. 
"You know, nothing truly prepares you for the demands of the Oval Office," Obama said. "You can read about it, you can study it. But until you've sat at that desk, you don't know what it's like to manage a global crisis or send young people into war.
"But Hillary has been in the room," he went on. "She's been part of those decisions. She knows what's at stake."
Obama's moving remarks left some viewers in tears, and they pleaded for him not to leave the White House. The speech was so epic, Republicans loved it, too — and even Trump was left speechless.
And let's not forget Clinton's surprise appearance at the end of the night: easily the convention's most heartwarming photo opportunity:
Day 4
Sarah McBride became the first transgender American to speak at the DNC. McBride, one of nearly 30 transgender delegates at the DNC, introduced herself as a "proud transgender American." She urged viewers to vote for Clinton, who she said understands that "everyone has the freedom to live openly and equally."
One of the night's most talked-about moments was a speech by Khizr Khan. Khan's son, Humayun S. M. Khan, was a member of the U.S. military and one of 14 American Muslims who died serving the country in the decade following the Sept. 11, 2001 terror attacks. 
In a memorable moment, Khan — a self-described "patriotic American Muslim" — pulled a copy of the U.S. Constitution out of his pocket, held it in the air and asked Trump if he's read it. 
"Donald Trump consistently smears the character of Muslims," Kahn said. "He disrespects other minorities, women, judges, even his own party leadership."
"Donald Trump, you are asking Americans to trust you with their future," Kahn said. "Let me ask you, have you even read the United States Constitution? I will gladly lend you my copy."
Finally, Clinton made her acceptance speech. The Democratic nominee took the stage after an introduction by daughter Chelsea Clinton. 
"Tonight, we've reached a milestone in our nation's march toward a more perfect union: the first time that a major party has nominated a woman for president," Clinton said. "Standing here as my mother's daughter, and my daughter's mother, I'm so happy this day has come."
Read more: