As Hillary Clinton Accepts Presidential Nomination, #BlackWomenDidThat Trends on Twitter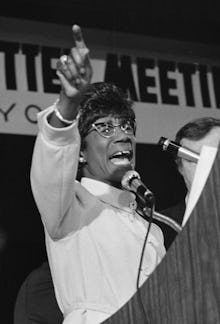 Hillary Clinton's historic presidential nomination owes a debt to Shirley Chisholm.
In 1972, Chisholm — a black congresswoman from Brooklyn, New York — became the first woman ever to run for the Democratic nomination for president of the United States, using the mantra "unbought and unbossed" to underline her campaign's lack of endorsement from the "political bosses, fat cats" and "special interests" who bankrolled some of her opponents.
"I am not the candidate of black America, although I am black and proud," Chisholm said at a news conference in January of that year. "I am not the candidate of the women's movement of this country, although I am a woman, and I'm equally proud of that ... I am the candidate of the people of America."
On Thursday, Twitter users commemorated Chisholm's legacy — and that of other legendary black women — using the hashtag #BlackWomenDidThat.
A week after Melania Trump, the wife of Republican presidential nominee Donald Trump, blatantly plagiarized passages of her GOP convention speech from First Lady Michelle Obama's 2008 Democratic convention speech, and hours after Hillary Clinton accepted the Democratic party's nomination, the time seemed ripe to celebrate the black woman trailblazers whose work — in one way or another — made both events possible.
It wasn't just about Chisholm, or other well-known "firsts." The hashtag, which was created by Twitter user @Bitterblue55, ended up applauding an assortment of influential and important black women, accompanied by explanations, from some users, about how these women touched their lives.
Yes, indeed:
Below are some of the highlights:
All hail the queens:
Read more: