J. Cole Dreamville Producer Has Found an Answer to James Blake and Sam Smith: Sean McVerry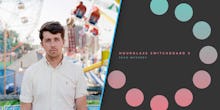 J. Cole's young but hungry Dreamville team is more known for its soulful boom-bap than its indie pop sensibilities — at least, so far. But while Cole's been quiet, his close collaborator Anthony Parrino (aka the producer Elite) has been seeking out and developing talent behind the scenes. Sean McVerry is one of his newest protégés.
McVerry, a recent college grad from SUNY Purchase's composition program, met Elite when the producer came to attend an alumni master class. The skeletal ballad McVerry played for the class caught Elite's ear, and he's since been helping the artist piece together his Hourglass Switchboard series of EPs, the second of which McVerry released Friday. Mic is premiering the video for its lead single "Strangers" below.
The video offers a glimpse into McVerry's creative process — a setup similar to the one Elite discovered him playing. "A lot of people in the class were playing pre-recorded stuff," McVerry said in a phone conversation, recalling their first meeting. "But I went in and just played this piano thing straight up, and [Elite] was very into what I was doing. I could tell it was very outside of what he's normally doing, but there was something he liked."
In "Strangers," McVerry weaves a hypnotizing soundscape, which he proceeds to puncture with his jarring vocal lifts. The composition complements the lyrics, which outline the difficulty finding comfort in unfamiliar territory.
"It's representative of jumping into a new situation, jumping into a new city where you don't know anybody and trying to find comfort do what feels right," McVerry said. "That's kind of what the whole project it's within about. It's about trying to find solace in other people, when they're dealing with their own internal struggles. Everyone is trying to get by and offer some kind of solace to one another, but they can only offer as much as their own experience allows."
This is what great songwriting does, according to McVerry: It offers solace without pretense. A great song, he says, can be translated into any genre over any production and make impression on its listener. It's a principle he feels is undervalued in much of today's popular music.
"At the end of the day, underneath all the cool synth sounds and drum loops — at the core of it you have a great song," McVerry said. "All I care about at the end of the day is: I have my experiences. I'm going to transmit them as honestly as possible."
Listen to the Hourglass Switchboard II EP below.
July 29, 2016, 12:28 p.m.: This article has been updated.
Read more: