Tax-Free Shopping Is Here! These States Have Sales Tax Holidays Starting This Weekend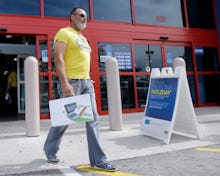 Clothes, footwear, computers, books, school supplies and — yes — guns, are all about to cost you less thanks to some big state sales tax holidays, beginning this weekend and rolling out over the rest of the summer.
Retailers and consumers alike stand to benefit from the holidays, which encourage spending by providing temporary relief from sales tax. The breaks will help defray costs for families, in particular, who are each expected to spend an average of $674 on back-to-school supplies over the next couple of months — an increase from last year's $630, according to the National Retail Federation.
Read on to see if you're lucky enough to live in one of the 17 states that's rolled out these special tax holidays in the last few years.
Alas, the populous states of New York or California are not on the list; Texas is, though. If your state is on the list, check out the Federation of Tax Administrators website for more details about exactly what items are tax-free, as state rules vary.
Alabama: August 5th - 7th
Most of the tax breaks are limited to certain kinds of items costing less than a certain amount. Broadly speaking, you may only get a break for purchases that cost less than $100 per item — but there's no limit to the number of sub-$100 items you can buy tax free.
Many states include laptops in the program (an exception to the $100 rule, of course), and specific stores will often roll out promotions of their own to lure in a bigger share of extra shoppers. 
Sales tax-free items generally include practical seasonal needs like back-to-school clothing, books, and protective equipment for hurricane readiness, especially for states in the South.
But some categories like clothing, for instance, are more open to interpretation, meaning this isn't just an opportunity for moms and dads shopping for kids' clothes: In Georgia, the Atlanta Journal Constitution is reporting that "lingerie, garter belts and girdles" all fall within the restrictions of the state's tax holiday.
Read more: