Avonte Oquendo's Family Will Receive $2.7 Million From NYC in Wrongful Death Suit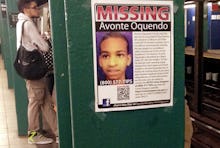 The City of New York has agreed to pay $2.7 million in the wrongful death suit of Avonte Oquendo, a 14-year-old boy with autism whose body was found in New York's East River in January 2014, three months after disappearing from his school in Queens.
The New York Daily News reported the suit — filed by Oquendo's mother, Vanessa Fontaine — holds school officials and NYPD's school safety division accountable for negligence. It alleges they failed to monitor the exit doors of Riverview School in Long Island City and to pay close enough attention to Oquendo, who was reportedly a flight risk.
Oquendo, whose form of autism rendered him unable to communicate verbally, was caught on security cameras fleeing his school on Oct. 4, 2013. It was the last place he was seen before parts of his body were found along the shore of the East River. His cause of death was never determined.
Fontaine's lawyer, David Perecman, said the case was unusual because there's very little evidence about what actually happened to the boy after he ran out of the school.
"We don't know how he got in the East River, we don't even know if he drowned," Perecman told the Daily News. Oquendo's body had decomposed so badly that it was impossible for medical examiners to determine how he died.
"That put a very big hitch in the case because we would have had to prove what happened," Perecman said. "The city and its departments make gross mistakes, they don't address the problems, then dole out significant sums of money to make it go away."
The case inspired what's called "Avonte's Law," child safety legislation to better monitor children with special needs and prevent cases like Oquendo's from happening in the future.
Read more: