Halsey Opens Up About Having a Miscarriage After an Unintended Pregnancy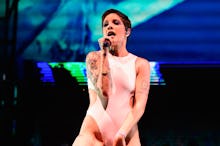 When 21-year-old recording artist Halsey was on tour last year, she discovered she was unexpectedly pregnant. 
"What happens? Do I lose my record deal? Do I lose everything? Or do I keep [the pregnancy]?" she asked herself when she found out, according to her emotional interview with Rolling Stone. "What are the fans going to think?"
Before Halsey had a chance to process these questions, she started bleeding and had a miscarriage hours before she was scheduled to go onstage. She told Rolling Stone that her initial reaction was to cancel the performance, but she decided to pop two Percocet and wear an adult diaper to get through the show:
It's the angriest performance that I've ever done in my life. That was the moment of my life where I thought to myself, 'I don't feel like a fucking human being anymore.' This thing, this music, Halsey, whatever it is that I'm doing, took precedence and priority over every decision that I made regarding this entire situation from the moment I found out until the moment it went wrong. I walked offstage and went into the parking lot and just started throwing up.
Halsey believes her hectic work schedule was to blame for the miscarriage.
"I think that the reason it happened is just the lifestyle I was living," she said. "I wasn't drinking. I wasn't doing drugs. I was fucking overworked — in the hospital every couple of weeks because I was dehydrated, needing bags of IVs brought to my greenroom. I was anemic, I was fainting. My body just broke the fuck down."
While Halsey said she regretted putting her work before her health, there's little reliable evidence to suggest that chronic stress or working too hard leads to an increased risk of pregnancy loss. Ultimately, miscarriage is so common that any number of factors can contribute to it.
According to the U.S. National Library of Medicine, 15% to 20% of pregnant women miscarry, most of the time because of "chromosome problems that make it impossible for the baby to develop." Other possible causes include exposure to environmental toxins, hormone problems, infection, obesity and "physical problems with the mother's reproductive organs," among others.
Despite her recent experience with pregnancy loss, Halsey said it won't stop her from trying again at some point in her life. "I want to be a mom more than I want to be a pop star," she told Rolling Stone. "More than I want to be anything in the world."
Read more: