The Cheesy 'Mr. Robot' Horror Movie With the Monopoly Mask Serial Killer Actually Exists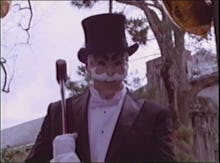 Wednesday's episode of Mr. Robot offered up the origin of fsociety's iconic Monopoly mask, derived from a cheesy '80s horror movie that Elliot and Darlene watched growing up: The Careful Massacre of the Bourgeoisie. The killer in the film dons the mask that Darlene finds at a 99-cent shop in Chinatown and presents to Elliot. However, as some fans noted on Twitter as the episode aired, the film isn't actually real. 
But the movie-within-a-show does actually exist. USA Network released The Careful Massacre of the Bourgeoisie online — a roughly 8-minute short film — and it's ripe with cheesy '80s slasher movie tropes.  
At the center of it are two college-aged siblings who are throwing a posh New Year's Eve party. They flaunt about their wealth, and they aren't going to short-change their friends on cocaine — though they might snort it all before the late-arriving guests show up. 
Then, an unknown person (the film hints it could be their uncle who supposedly committed suicide) takes the "un-chic" Monopoly mask one of the kids leaves out on the table, and the careful massacre begins when he approaches one of them as they fiddle with the stereo. As expected from a slasher film, there's a ton of blood. 
Other familiar tropes come into play, too: The killer shows up in someone else's reflection, the killer appears and disappears off-screen, the crescendo dramatically builds when each fatal blow is delivered and one of the college girls' top casually rips off while fleeing the attacker (so yes, this is NSFW for both gore and nudity reasons). 
While viewers debate whether Mr. Robot is in the midst of a sophomore slump with its slow-building plot, it's hard to deny the meticulous detail series creator Sam Esmail is working into the show this season.
Watch The Careful Massacre of the Bourgeoisie here. 
Read more: