Lady Gaga Performs the Beatles, Neil Young, Woody Guthrie at DNC Event Camden Rising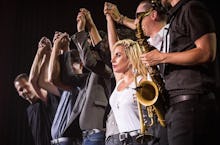 The Democratic National Convention in Philadelphia has been a star-studded spectacle for the ages. But just outside of the state, a number of music's biggest names have been performing at Camden Rising, a concert series for DNC delegates in Camden, New Jersey, aimed at putting the spotlight on one of the nation's poorest cities.
Lady Gaga took the stage Thursday following a welcome from New Jersey Sen. Cory Booker. "She's fighting for all of us," he told the crowd about Gaga. "From victims of sexual assault to people suffering with mental health. She speaks to the gospel of love that she's put to a pretty powerful soundtrack."
Gaga performed a medley of hits, covering Neil Young, the Beatles and Woody Guthrie, among others. She was even sure to hit the patriotic "This Land Is Your Land" with a jazz ensemble before closing the set with the Beatles classic "Come Together" and Edith Piaf's "La Vie en Rose," the Hollywood Reporter and Associated Press reported. 
Watch the Queen slay for a cause below.
Read more: