New iPhone 7 Video Reveals Major Differences Between iPhone 6, 6s and New Apple Device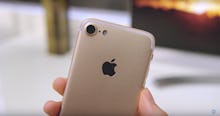 As we count down to the iPhone 7 and 7 Plus release date in September, everyone's asking: What will Apple's new iPhone look like, and what are the features we can expect? How good is the iPhone 7's camera? And basically, what will the iPhone 7 actually do that will make it worth the upgrade from the 6 or 6s? And should you buy it now or wait for the potentially more exciting iPhone 8? 
Here's a new unboxing video by YouTuber Jonathan Morrison, who shows an iPhone 7 clone compared to the iPhone 6s. Get ready to geek out.
The first nice update is the camera, which you'll see is much larger. 
This could mean a wider aperture, which lets in more light for those dimly lit bar photos. (Tech Insider's head-to-head shootout between Samsung and Apple shows why the aperture matters.) If photography is your thing, and you want a step up from the iPhone 5 or 5S, it's definitely worth getting your hands on this. 
If you want the best camera, though, and don't care about staying in the Apple ecosystem, you should hold out for the Samsung Galaxy Note 7, which has a great lens and might even be waterproof.
Here's one more view of that big-ass camera.
OK, now let's talk about the headphone jack. Yep, it's very likely going away, which means you'll be forced to buy expensive Bluetooth headphones or buy an expensive adapter.
Here's the bottom of the iPhone 7 clone lying on the iPhone 6s. Instead of the headphone jack, the 7 has a second speaker. This'll be nice for louder calls on speakerphone, but really, who listens to music directly out of their phone?
The bottom line: If you've got the iPhone 5 or 5s, the iPhone 7 will be a huge step up. You'll get a better camera and sound along with a few nice things you can't see in this video: potentially stronger glass (Gorilla Glass 5 is rumored to be a feature) and possibly a bigger hard drive for the same price point (the bottom tier will likely start at 32GB rather than 16GB).
But if you already have the 6 or 6s, there isn't a lot here that makes the iPhone 7 worth upgrading for. From a design standpoint, they're basically identical. 
Fans are already starting to look forward to 2017, the iPhone's 10th anniversary, when Apple is rumored to be planning a much more exciting release — the iPhone 8.
Read more:• Should You Buy the iPhone 7? Most People Say They Won't