Syrian Save the Children Maternity Hospital Was Just Bombed, According to the Charity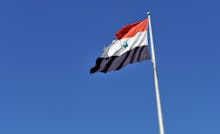 A maternity hospital supported by Save the Children in Idlib, Syria, was bombed Friday in an airstrike, causing civilian casualties, the charity reported. 
Idlib, in the northwestern part of the country, near the shared border with Turkey, is currently under rebel control. It remains unclear who orchestrated the attack. Both Russia, which is backing Syrian President Bashar al-Assad's regime, and a United States-led coalition have been conducting airstrikes throughout the country.
Save the Children posted video footage of the damage, primarily in the front of the building, on its Twitter page. Hundreds of babies are delivered in the hospital every month; it is also one of the largest healthcare facilities in the region.
Two casualties have been confirmed thus far, but more bodies may be discovered as the recovery effort is still underway, Save the Children spokeswoman Caroline Anning told the Independent.
"This is the first time it has happened to one of our facilities in Syria," Anning said.
Idlib has been the site of multiple airstrikes this year. In May, an aid worker with an organization affiliated with Save the Children was killed during a series of airstrikes. The worker was attempting to save Syrian families caught under rubble from an initial bombing when a successive one killed him and others.
Russia and the U.S.-led coalition — which are largely opposing forces as the U.S. has advocated for an end to the Assad regime — have, in recent days, tenuously attempted to combine forces in the fight against the Islamic State group, which controls swaths of the country. 
But coalition airstrikes east of Idlib went awry Thursday, killing at least 28 civilians near Manbij, the Syrian Observatory for Human Rights reports, according to Al Jazeera. It was one of the coalition's most devastating inadvertent attacks on civilians. 
On Friday, the United Nations envoy to Syria requested Russia allow the organization to run "safe corridors" to rebel-controlled Aleppo — in between Idlib and Manbij — in which approximately 300,000 people are held captive, BBC reports. If agreed to, Russia would cease fighting and airstrikes in U.N.-run areas. 
Read more: