2016 Election Poll Update: Here's Where Clinton and Trump Stand After the DNC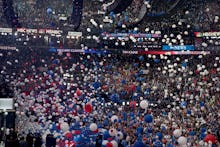 The Democratic National Convention just wrapped up, and it left social media with high hopes for another Clinton in the White House.
So where do the voters stand now? At the end of the Republican National Convention, a poll from CNN had Trump leading Clinton by 3%. That poll also had a 3.5% margin of error — and polled adults generally (i.e.: not necessarily registered voters who planned to vote). Other polls showed different results:
Now, at the end of the DNC, the results are still looking mighty close. According to Rasmussen Reports, Clinton only leads Trump by 1%.
The latest polls are split — some show Trump leading, others show Clinton with the majority. According to the Huffington Post's poll-tracking model, Clinton is likely leading, with 45% of the opinion polls favoring her versus Trump's 42.9%. 
The tricky thing here is that, as Vox points out, summer polls around the conventions tend to be erratic. It isn't until August that poll predictions start to tell the real story. 
"The polling averages just don't move much more than two or three percentage points after the conventions," Jonathan Ladd, a professor at the McCourt School of Public Policy at Georgetown University, told Vox. "Especially since the conventions are in July, the person in the lead in August will have a really good chance of winning."
Read more: