iPhone 7 and 7 Plus Release Date: Here's When You Can Preorder Apple's New Phone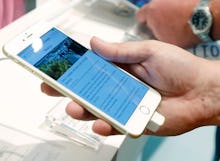 What's the release date of Apple's brand-new iPhone 7, and when will it be available for preorder?
It's coming soon, so mark your calendars! According to a new rumor from reliable source Evan Blass, we're looking at September 16 for the launch date and September 9, a week before that, for the preorder. 
Apple hasn't confirmed this report, according to Forbes, but the "timeline seems to fit that mold. ... Apple usually announces a new iPhone towards the beginning of a week, starts preorders on a Friday and launches the iPhone a week after preorders begin." 
Apple reportedly has a few small but important updates planned for the next iPhone, which most people are calling the iPhone 7 but could be called the 6SE. Rumors and leaks have suggested we'll be getting a better camera, stereo speakers, bigger hard drive and stronger glass. The big potential downside is the lack of a headphone jack.
Read more: