This Day in History: President Lyndon B. Johnson Signed the Medicare Bill Into Law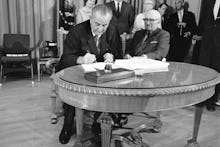 Those over 65 and those living in poverty have access to health insurance and health care because of one bill signed into law on July 30, 1965, in Independence, Missouri.
On that day, President Lyndon B. Johnson signed the Medicare bill into law and handed registration cards to the program's first two enrollees, former President Harry Truman and his wife, Bess Truman.
At the time, 81-year-old Truman called it a "profound personal experience." Johnson chose Truman as the first enrollee to honor his advocacy for a national health insurance program, which Congress opposed when he proposed it in 1945.
About 19 million people enrolled in Medicare when it was first enacted in 1966. In 1972, people with certain disabilities under 65 were allowed to seek coverage under Medicare and in 2003, George W. Bush added outpatient drug benefits to the law. Today, 44 million people in America — 15 percent of the population — are enrolled in Medicare and the number is projected to increase to 79 million by 2030.   
Medicare remains controversial because of how much of the federal budget it comprises. Funded entirely by a payroll tax, Medicare takes up 15% of the federal budget. In 2015, Medicare payments totaled $632 billion. 
The Affordable Care Act did not affect Medicare much — people on Medicare received the same benefits and did not have to go through the health exchange. The Affordable Care Act increased coverage of preventive services under Medicare, including colonoscopies and mammograms. 
Read more: