Justin Bieber Was Reportedly Asked to Perform With All Lives Matter Banners During RNC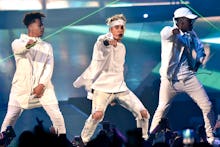 Justin Bieber could have earned the biggest payday of his career during the Republican National Convention — but it likely would have cost him his manager, his band and probably his soul.
The Canadian-bred pop star was reportedly considering performing a 45-minute set near the Quicken Loans Arena in Cleveland where the GOP was officially nominating Donald Trump as their White House choice, TMZ reported. According to TMZ, a promoter putting together a show in conjunction with the RNC offered Bieber $5 million, and while the performance wouldn't have been an official endorsement for the party's nominee, Bieber would not have been allowed to critique anything Republican-related, including Trump.
Bieber's lifetime manager Scooter Braun, who also happens to be a staunch Hillary Clinton supporter, brought the deal to Bieber, warning him he thought the party was only using Bieber as a tool, according to TMZ. But when Bieber asked if he could perform in front of "Black Lives Matter" banners, the event turned out to have far more political significance than what was first pitched.
Donors countered they would accept Bieber singing in front of "All Lives Matter" banners, while upholding his promise of saying nothing wrong about the GOP. But the problematic and underhanded racist slogan didn't fly with Biebs, nor his manager, nor his band (comprised entirely of black members), TMZ reported.
Bieber reportedly turned down the offer and still hasn't weighed on the U.S. election, or the Republican Party's attempts to use of his music for their own political gain. During the week of the RNC, plenty of other artists did, though, including Queen, the Rolling Stones and the Turtles, all demanding the convention stop their music without permission — to no avail.
Of course, Bieber could have always pulled a Third Eye Blind and trolled his Republican audience by praising science and preaching love and acceptance. Perhaps they'll be another opportunity for Biebs to do that further down the line.
Read more: