'Special Relationship' Podcast: The 2016 Republican and Democratic National Conventions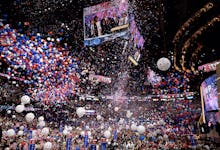 PHILADELPHIA — What a ride.
Though the 2016 Republican National Convention in Cleveland and the Democratic National Convention in Philadelphia highlighted two completely different visions of America, they did share one thing: chaos.
A special edition of Special Relationship, the Election 2016 podcast from Mic and The Economist, captures the sights and sounds of both events through on-the-ground reporting and a conversation between the hosts about their unique experiences at the back-to-back events.
From the tumult of the floor fight ahead of Donald Trump's acceptance of the Republican nomination for president to the bad blood between Democratic factions supporting Hillary Clinton and rival Bernie Sanders, Special Relationship Episode 7 gives listeners a deep look at two of the most unusual conventions in modern U.S. history
The episode's special guest is Rudy Giuliani, the former mayor of New York who ran for president himself in 2008.
Listen here:
Subscribe to Special Relationship on iTunes, Google Play or wherever you listen to podcasts. Please rate and leave a review, and stay tuned for our eighth episode.