Is Your Old iPhone Worth Anything? Here's How to Find Out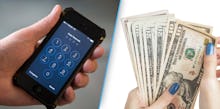 The iPhone 7 will likely be unveiled this September, and if you're interested in upgrading, you might want to sell your current model. But how much is it worth? You have a few options for evaluating your iPhone's value and selling it — that aren't Craigslist. 
Trade it in to Apple
If you're looking to upgrade to another iPhone, you can trade in your current iPhone at an Apple store or via mail. Depending on what model iPhone you have and its condition, Apple could give you between $50 and $250. 
You can answer a series of questions to get an estimate of how much your phone is worth. Those questions include: "Is the device free from obvious signs of liquid contact?" and "Are the buttons in good working condition?" 
There is a chance Apple will say your iPhone is not eligible. When I answered the questions about my iPhone 6, for instance, I was told Apple wouldn't pay me any money for it, but I was welcome to recycle it through the company's recycling program. 
Trade it in to your wireless provider
Your wireless provider probably has a buyback program that will give you an evaluation online. AT&T, for example, asks if your iPhone's LCD is intact and if your device powers on and off. 
Verizon, T-Mobile and Sprint also have trade-in programs.
Sell it online
You need to be careful when selling something as potentially valuable as an iPhone online. Thankfully, there are a bunch of sites that will offer you money for your used iPhone. The sites Gazelle and ItsWorthMore both have Better Business Bureau ratings of A+ and high ratings on ResellerRatings.com. 
Like Apple, Gazelle and ItsWorthMore ask you about your iPhone's condition to determine how much the site will pay you. 
Once you have an evaluation, you can send your iPhone in the mail for free. Gazelle will pay you via check, PayPal or Amazon gift card, and ItsWorthMore will send you money via check or PayPal. 
Read more: