Constance Wu Just Shut Down Any Arguments for Casting Matt Damon in 'The Great Wall'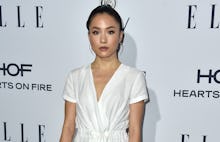 After the trailer dropped for Matt Damon's latest film The Great Wall, a fantasy-action film about the Great Wall of China, on Thursday, several people were left scratching their head as to why Damon was cast as the lead actor in a film about a Chinese landmark. 
Count Fresh Off the Boat actress Constance Wu as one of the head scratchers. On Friday afternoon, she tweeted a long explanation as to why, in the age of #OscarsSoWhite, Damon is front and center in a film about Asian history. 
 "We have to stop perpetuating the racist myth that [only a] white man can save the world," Wu wrote on Twitter. "Our heroes don't look like Matt Damon. They look like Malala. Gandhi. Mandela. Your big sister when she stood up for you to those bullies that one time." 
"Our heroes don't look like Matt Damon." 
On Twitter, she wrote that this was not about blaming individuals like Damon or the film's investors. 
"Rather, it's about pointing out the repeatedly implied racist notion that white people are superior to POC and that POC need salvation from our own color via white strength," she wrote. "We don't need salvation. We like our color and our culture and our own strengths and our own stories. (If we don't, we should.) We don't need you to save us from anything. And we're really starting to get sick of you telling us, explicitly or implicitly, that we do." 
Wu also said that blaming money is the "lamest excuse in the history of being human" and decried the double standard that allows white actors to have box office failures, but doesn't allow that from people of color. 
Wu has remained an outspoken advocate of diversifying Hollywood and fighting whitewashing in films for some time. She spoke out against whitewashing after an image showing Scarlett Johansson playing an Asian character in the upcoming film Ghost in the Shell circulated online. Reports later surfaced that the film's producers tested tech to make Johansson look Asian. 
Mic has previously reported that movies with nonwhite leads have shown a greater return on investment than movies with white leads. Overall, when you look at white leads, their movies make more, because there are more white leads. But casting a person of color in film is actually a better investment.
Wu just served it; the ball is in your court, Hollywood. 
Read more: