Clinton Campaign's Emails Hacked as Part of Democratic Party Cyber Attack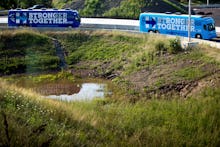 A computer network used by Democratic nominee Hillary Clinton's campaign was hacked, Reuters reported Friday. This attack follows two recent email hacks targeting the Democratic party, namely the Democratic National Committee and a Democratic party fundraising committee. 
A campaign spokesman said that the hacker accessed an analytics data program used by the DNC and several other entities to analyze voter data. 
"Our campaign computer system has been under review by outside cyber security experts. To date, they have found no evidence that our internal systems have been compromised," Clinton campaign spokesman Nick Merrill told Reuters.  
The program, which was accessed for about five days, does not include social security numbers or credit card numbers, according to Reuters. 
The U.S. Department of Justice is investigating whether the cyber attacks compromise U.S. security, sources familiar with the matter told Reuters. That the DOJ has gotten involved likely indicates President Obama believes the hack was sponsored by another country. 
News of the hack comes only one week after digital secrets publisher Wikileaks released thousands of emails sent among DNC officials. The emails revealed that DNC officials attempted to undercut Vermont Senator Bernie Sanders' campaign. U.S. intelligence officials suspect that Russia was the culprit behind the email leak, as well as the hacking of the Democratic Congressional Campaign Committee's network. 
Earlier this week, Republican nominee Donald Trump challenged Russia to hack government emails. 
"Russia, if you're listening, I hope you're able to find the 30,000 emails that are missing," Trump said. 
Read more: