Who Are the Rio 2016 Olympics' Mascots? What to Know About Vinicius and Tom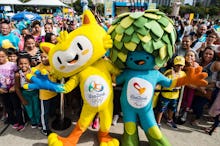 If you've been paying attention to the promotional materials for the upcoming 2016 Summer Olympics in Rio de Janeiro, you might have noticed two lovable guys dancing around in celebration of the historic first-ever South American Olympics.
They would be Vinicius and Tom, the official mascots of Rio 2016. Though the two characters might look sweet and simple, their origin story is actually imbued with symbolism about how the Brazilian games came to be, explained via a short cartoon released in Portuguese: 
Nearly 325,000 people turned out for a public vote on the mascots way back in 2014, and the end result was overwhelmingly in favor of honoring Brazilian Bossa Nova singers Vinicius de Moraes and Tom Jobim. 
"The choice of the names Vinicius and Tom adds even more "Brazilianness" to our mascots, which are ambassadors of the Games. Their role is to share the messages of the event and the values of the Olympic and Paralympic movements to various audiences, especially children and youth," said Beth Lula, Brand Director of Rio 2016.
Vinicius
While the two friends share mascot duties, Vinicius is the official mascot of the Rio 2016 Olympics, while Tom is actually the official sponsor of the Paralympic Games. 
According to his website, Vinicius is a "mixture of all the Brazilian animals" who was "born out of the explosion of joy that happened when they announced that Rio would host the Olympic Games, on 2 October 2009."
He loves making new friends from all around the world, but his best friend is Tom. According to the website, his mission is "... to spread joy throughout the world and celebrate the friendship that flourishes between people from all over."
Tom
Since Vinicius is an amalgamation of every Brazilian animal, it makes sense that Tom is a mixture of every plant. On his website, Tom describes himself as a magical creature who uses "creativity, intelligence and determination," to accomplish his goals, important qualities for the mascot of the Paralympic Games.
According to Paralympic.org, the President of the Organising Committee for the 2016 Olympic and Paralympic Games, Carlos Arthur Nuzman, said that the public did a good job of choosing Vinicius and Tom as their Rio mascots. 
"The names of Vinicius and Tom are recognized worldwide as a synonym for excellence, which is in line with what we want to achieve with the Rio 2016 Games. In addition to representing the Brazilian fauna and flora, our mascots also connect to the best of our music. We are certain that they will be an inspiration to the youth," he said.
Read more: