Rio Olympics 2016: Livestream, Channel, Start Time and How to Watch Rio Olympics Online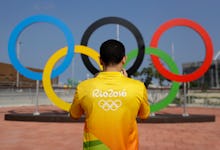 The first-ever South American Olympics are set to kick off in Rio de Janeiro in August, and fanatics of the Games should take heart: Host network NBCUniversal has 356 hours of coverage planned per day. 
Don't want to miss out on a minute of the action? Here's how to catch all 19 days of the competitions you care about from the comfort of your own couch — minus the sweltering heat of a Brazilian summer.
Opening ceremony 
According to CBS Sports, the Opening Ceremony will herald in the start of the games on Friday, August 5 at 8 p.m. Eastern. Look alive, though, because the competition officially begins two days earlier — on Wednesday, August 3 — with women's soccer.
Watch on cable
If you live in the Western Hemisphere, there's really, really good news for you: Since Rio is only one hour ahead of Eastern Standard Time, it means the games will be broadcast live at more-convenient hours. (Anybody remember the 2000 Summer Olympics in Sydney?)
In order to provide the best coverage possible, NBCUniversal will broadcast the competition on several of their various properties, including CNBC, Bravo, MSNBC and USA Network.
Click here for the full list of participating networks and which events will air on each.
Watch online
With verified cable subscriptions, NBC users can also stream the 2016 coverage of the games on the go. NBC claims that its sports app, NBC Sports, will stream 4,500 hours of Olympic coverage.
For more information on the livestream and a full streaming schedule, head to NBC's official website here.
Read more: