Pork Bacon Found Inside a Quran in the Multifaith Room of a Malta Hospital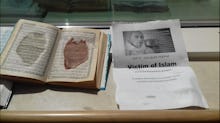 Vandals desecrated several copies of the Quran inside the multi-faith room of Malta's Mater Dei hospital, the Times of Malta reported Saturday. The offenders left slices of pork bacon in between the pages of the book. 
Lying next to the bacon-covered Quran was a printout featuring the name and face of Fr. Jacques Hamel, who was killed earlier this week in Normandy, France. The Islamic State claimed responsibility for his death. 
The page said that Hamel was a "victim of Islam and its liberal/progressive apologists." 
"This criminal act was done by sick people," the Islamic Community of Malta wrote on its Facebook page. "We as Muslims living in Malta will not play their game . We could say like all the haters and fools that this was an act of Christian terrorism but we don't generalize like those perpetrators who have the same agenda as other terrorist groups, encouraging hate in this beautiful country." 
Islamophobic attacks featuring pig parts began en masse in 2015, considered the worst year for anti-mosque attacks on record. People left severed pig heads on mosque grounds in Philadelphia, Australia, the U.K, Austria and more. Someone wrapped bacon around the door handle of a mosque in Las Vegas. President Barack Obama visited a mosque for the first time in his presidency in February 2016 to address the Islamophobic attacks. 
The Roman Catholic archbishop of Malta, Charles Scicluna, tweeted a condemnation of the attacks. 
"I condemn the vilification of the Quran at Mater Dai Hospital," he wrote. "I condemn the abuse of the name of Martyr Fr. Jacques Hamel. Not in our name." 
The Ministry of Health condemned the vandals, as well, and called them "cowards." Police are currently investigating the incident. 
Read more: